2021 European Dairy Quality Conference (EDQC) Webinar
Day One of the 2021 EDQC Webinar feature the presentations by industry leaders and experts, Anne Bigalke and Jack van der Sanden.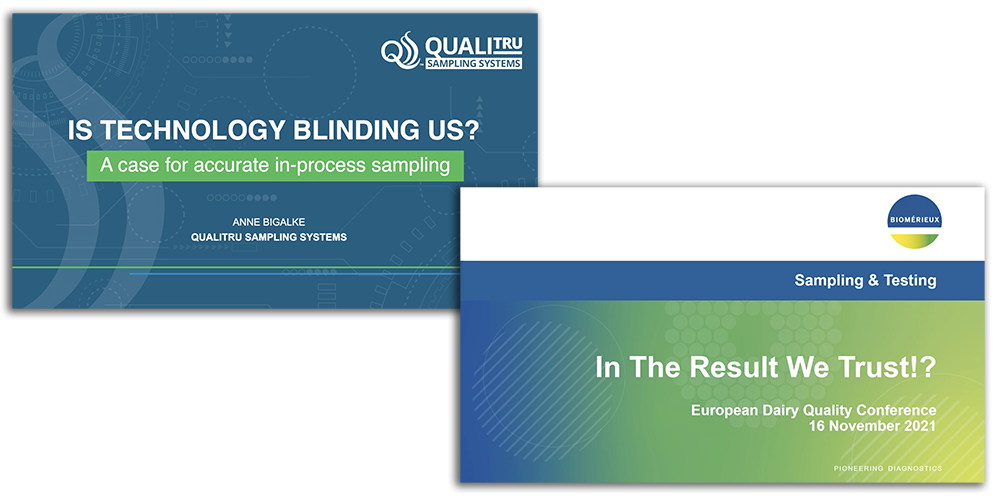 CONTINUOUS IMPROVING DAIRY INDUSTRY
QualiTru is proud to share Jack and Anne's presentations from Day One of the 2021 EDQC Webinar. These on-demand webinars provide solutions to identifying gaps in your sampling data and review the steps in your sampling to testing process to improve current controls.
Register to watch these 2021 EDQC webinars sponsored by bioMérieux.
You'll learn about:
Safe and High Quality Future of Dairy: Is Technology Blinding Us?
Speaker: Anne Bigalke, Vice President of Sales & Marketing, QualiTru
Why monitor your process
Sampling considerations
Operational efficiencies and cost savings
…and much more
Related on-demand webinars: Monitoring Microbial Contamination
In The Result We Trust!?
Speaker : Jack van der Sanden, Senior Food Safety advisor, bioMérieux
The importance of the human factor in sampling and testing
The Diagnostic Chain from sampling plan to results
How a robust verification process provides valuable feedback
…and much more
Related on-demand webinars: Think SHACP: Sampling Handling Control Points
Please fill out this simple form for immediate access.
Fields marked with * are required.