From the Field Video Series
NEW! We are proud to introduce a series of educational video presentations from industry subject matter experts (SMEs) on topics we hope you will find insightful and interesting. Stay tuned for additional videos to be added to the lineup!
---
From the Field Series #2: Microbiological Criterion, this great stranger
Subject Matter Expert: François Bourdichon, Ph.D, Food Safety Microbiologist, Chair of the Standing Committee on Microbiological Hygiene, International Dairy Federation
Microbiological monitoring is often regarded as a regulatory mandatory and an adequate fail/pass approach to ensure safe food production. However, this is not what is expected from the evolution of the concept and the guidelines from the Codex Alimentarius on establishing microbiological criteria (CAC GL 21/1997 Modified 2015).
Apart from statistical considerations, there are a lot of technical details to be considered, not to mention the role of the criterion within the global food safety management system (FSMS) in place. The following presentation from the bioMerieux EDQC Event in Fall 2022 addresses the following considerations:
Always start with the WHY: Why do we test? (Risk Assessment)
What / How do we test? (Microbiological organism of concern, analytical method)
Where do we test? (Sampling point along the production process)
And how should we react to a result?
It is important to switch from a reactive to a proactive monitoring scheme, establishing sampling points where contamination and/or deviation can occur. Not at the end of the process where the only solution remaining is discarding eventually the noncompliant production.
---
From the Field Series #1: Practical Tools for Membrane Process Monitoring and Filter Verification
On-Demand Webinars
(Requires registration for access).
Environmental Sampling: Is it Enough?
2021 European Dairy Quality Conference (EDQC) Webinar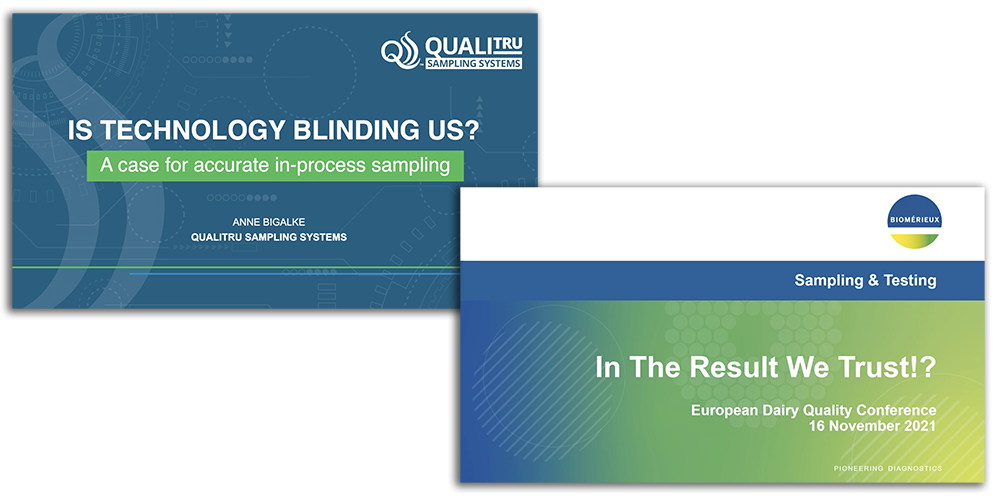 Think SHACP: Sample Handling Control Points
Educational Videos
Training Demo Videos
These video resources include product usage guides and tutorials ranging from port installation, pen/string and inline/direct sampling to needle insertion and process verification. Not finding what you need? Please contact us at 651-501-2337 or [email protected] so that we may assist you.
Translated videos
Español: Guía de capacitación del sistema de muestreo en línea/carga directa
(Inline/Direct Load Sampling System Training Guide)
(Español): Guía de entrenamiento para la inserción de la aguja
(Needle Insertion Training Guide)
(Español): Guía de capacitación para muestreo de corral o grupo con una bomba peristáltica
(Pen or String sampling with a Peristaltic Pump training guide)
Español: Guía de capacitación para silos
(Silo Training Guide)
Japanese Subtitles: Pen or String Sampling with a Peristaltic Pump Training Guide